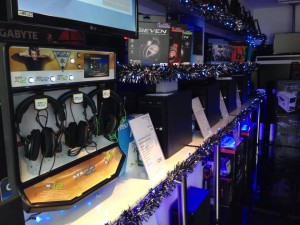 System Restore UK will undertake almost any problem involving a computer or a laptop. Whether it be our popular servicing package for machines that have lost performance over time,
general repairs such as screen replacements, component repairs, or software issues, as well as New builds to suit every different customer requirement.
Why Choose SR-UK?
Location, low cost nearby town centre parking
Professional and friendly service
Honest advice
Advertised costs with no hidden extras
Fast turnaround to avoid as much inconvenience as possible
Warm and friendly store environment
Stock of all of the latest components, hardware and peripherals.
Most competitive prices in the area, and a haven for PC gamers.
What does SR-UK specialise in?
Repairs, Custom Builds, new and used computers and laptops, parts, cables, adapters and peripherals, official Razer retailer.